Owning a home comes with its rewards — it's an investment, a cozy haven to kick-up your feet after a long day of work, and a welcoming place to bring family and friends together. Although all of this makes homeownership fulfilling, owning a home also opens the door for unexpected (but necessary) expenses.
If you've suddenly been hit with a home improvement project that's pinching your budget, like a roofing issue or heater malfunction, a personal loan might be an option to help cover the cost.
What is a personal loan?
A personal loan is an installment loan that's typically issued by a bank, credit union or online lender. According to the Federal Reserve, the average interest rate on a two-year personal loan is 10.22% but varies depending on your credit score and other criteria. Some lenders offer repayment terms anywhere from 12 months to five years.
A benefit of using a personal loan for emergency home improvement projects is that the approval process is generally quick so you can address urgent home repairs sooner. Some online lenders can run a credit check, approve your application and send funds your way with a couple of days. The approval process for banks and credit unions, on the other hand, can take anywhere from a couple of days to a couple of weeks, if the lender needs additional information.
How to find a personal loan
If you've decided that a personal loan makes sense to fund your next home project, make sure you're aware of these next steps.
1. Assess your budget
The last thing you need is taking out a personal loan only to realize after the fact that you can't afford to repay it. Calculate how much you realistically need for your home improvement project, giving yourself a reasonable buffer for unforeseen repair expenses (e.g. permit fees, price changes for a specific material, etc.)
Then, tally your monthly income and financial obligations to ensure you still have enough cash on hand to keep the lights on and make monthly installments toward your loan. Using a spreadsheet or budgeting app can help you track these numbers easily.
2. Know your credit score
Generally, you need a good credit score to get approved for a personal loan. Your credit score is one of the key factors that lenders use to determine whether your application is approved, and a higher credit score results in a lower interest rate offer.
Check your credit score with the three credit bureaus to ensure there isn't an error or suspicious activity that might inadvertently lower your credit score. For a free credit report, go to AnnualCreditReport.com to see where your credit stands before moving forward in the process.
3. Compare rates and terms
When you've confirmed that you have a good credit score that can get you competitive interest rates, it's tempting to accept a loan from the first lender that approves you. But like other major purchases, it's important to shop around.
Compare interest rates, annual percentage rates (APR), and term durations available, and read the fine print for any conditions or fees that might offset any benefits.
To start, try reaching out to your existing financial institution first to see what they can offer; sometimes credit unions, in particular, offer rate incentives for loyal members. Also, consider using a personal loan aggregator website to compare offers from multiple online lenders at once (just do your due diligence to ensure the site is legitimate).
4. Submit an application
If you're ready to submit an application, you can either complete a form online or apply in-person, depending on your lender. Although all lenders require different information to process a loan application, some common information to prepare ahead of time include:
Personal information
Income
Employment information
Reason for the loan
Amount you want to borrow
To minimize any delays on your end, it's helpful to prepare copies of verification documents, such as a driver's license, proof of address like a utility statement, information about your home and pay stubs. Your prospective lender will likely reach out to you if they need any other information to make a decision.
Although it's always best to have emergency savings set aside for a sudden home improvement project, turning to a personal loan is a useful option when you're pressed for funds and time. As urgent as your project might feel, however, always take the time to do your research to ensure you're making the right move for your situation.
Posted on November 11, 2019 at 8:00 am
Jon Holsten
|
Category:

Buying, Living
|
Tagged

Application, Blog, Budget, Credit Score, Finances, Interest Rate, Personal Loan, Rates, Terms
It's no surprise that for just about every homeowner, their real estate represents the largest portion of their net worth.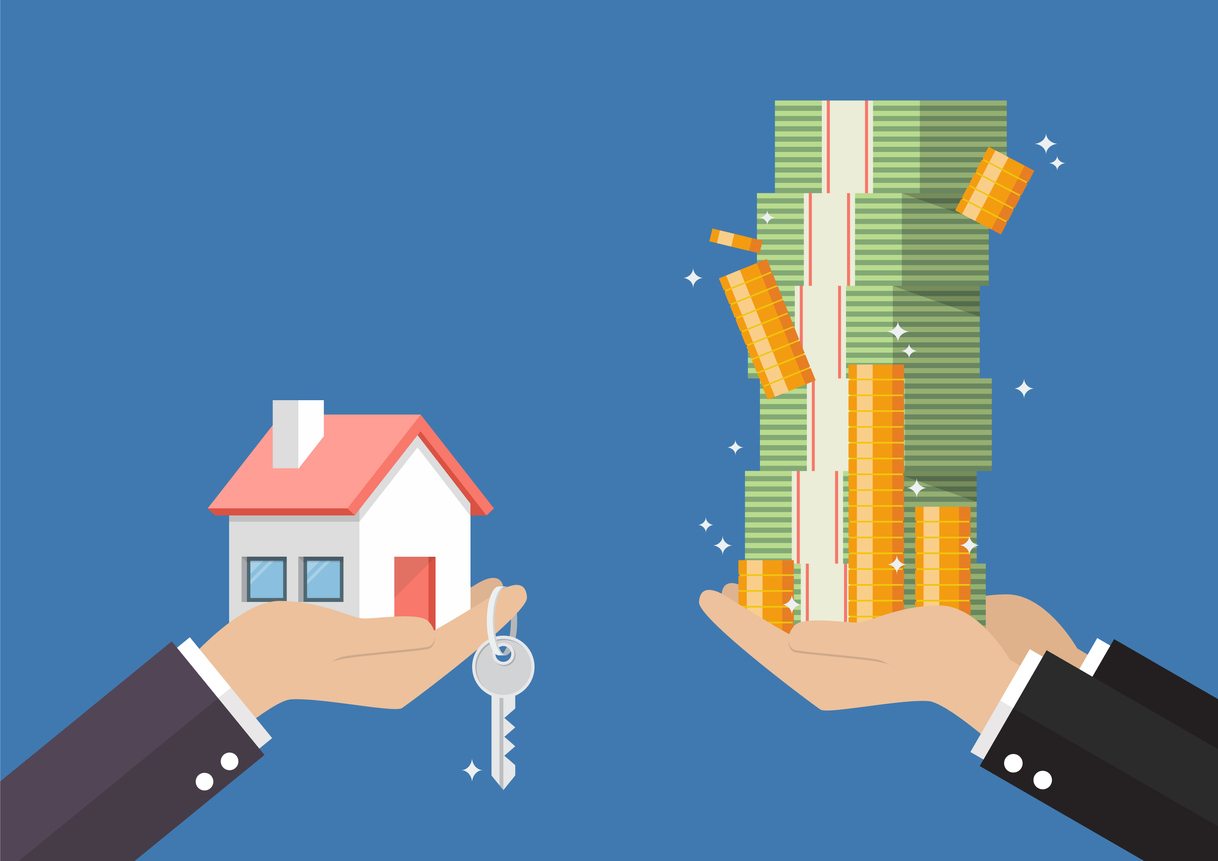 Check out these numbers from the Federal Reserve's Survey of Consumer Finances:
Median Net Worth in the U.S. = $97,300
Median Net Worth of a Renter = $5,200
Median Net Worth of a Homeowner = $231,400
---
If you want to see even more insights about the Colorado market so that you can make really good decisions about your real estate, you are welcome to watch this complimentary webinar, just click HERE.
Posted on November 4, 2019 at 8:00 am
Jon Holsten
|
Category:

Buying, Windermere Real Estate
|
Tagged

Colorado market, Federal Reserve Survey of Consumer Finances, Finances, Friday Fun Facts, Homeowners, Median Net Worth, Net Worth, Real Estate, Windermere Real Estate

Appraisals are used as a reliable, independent valuation of a tract of land and the structure on it, whether it's a house or a skyscraper. Designed to protect buyers, sellers, and lending institutions, appraisals are an important part of the buying/selling process.
Below, you will find information about the appraisal process, what goes into them, their benefits and some tips on how to help make an appraisal go smoothly and efficiently.
Appraisal value vs. market value
The appraiser's value is determined by using a combination of factors such as comparative market analyses and their inspection of the property to determine if the listing price is typical for the area.
Market value, on the other hand, is what a buyer is willing to pay for a home or what homes of comparable value are selling for.
If you are in the process of setting the price of your home, you can gain some peace-of-mind by consulting an independent appraiser. Show them comparative values for your neighborhood, relevant documents, and give them a tour of your home, just as you would show it to a prospective buyer.
What information goes into an appraisal?
Professional appraisers consult a range of information sources, including multiple listing services, county tax assessor records, county courthouse records, and appraisal data records, in addition to talking to local real estate professionals.
They also conduct an inspection. Typically, an appraiser's inspection focuses on:
The condition of the property and home, inside and out.
The home's layout and features.
Home updates.
Overall quality of construction.
Estimate of the home's square footage (the gross living area "GLA"; garages and unfinished basements are estimated separately).
Permanent fixtures (for example, in-ground pools, as opposed to above-ground pools).
After the inspection, the appraiser of a typical single-family home will create their report including their professional opinion on what the price of the home should be.
You might hear the lender ask for two reports, the "Sales Comparison Approach" and the "Cost Approach." These two approaches use different methodologies to find the appropriate value of the home, and help the lender confirm the home's price.
Who pays and how long does it take?
The buyer usually pays for the appraisal unless they have negotiated otherwise. Depending on the lender, the appraisal may be paid in advance or incorporated into the application fee; some are due on delivery and some are billed at closing. Typical costs range from $275-$600, but this can vary from region to region.
An inspection usually takes anywhere from 15 minutes to several hours, depending on the size and complexity of your property. In addition, the appraiser spends time pulling up county records for the values of the houses around you. A full report is sent to your loan officer, real estate agent, and/or lender in about a week.
If you are the seller, you won't get a copy of an appraisal ordered by a buyer. Under the Equal Credit Opportunity Act, however, the buyer has the right to get a copy of the appraisal if they request it. Typically, the requested appraisal is provided at closing.
What if the appraisal is too low?
A low appraisal can present a problem when there's a large difference between what you've agreed to pay and the appraisal price.
Usually, the seller's agents and the buyer's agent will respond by looking for recent sold and pending listings of comparable homes. Sometimes this can influence the appraisal. If the final appraisal is well below what you have agreed to pay, you can re-negotiate the contract or cancel it.
Where do you find a qualified appraiser?
Your bank or lending institution will find and hire an appraiser; Federal regulatory guidelines do not allow borrowers to order and provide an appraisal to a bank for lending purposes. If you want an appraisal for your own personal reasons and not to secure a mortgage or buy a homeowner's insurance policy, you can do the hiring yourself. You can contact your lending institution and they can recommend qualified appraisers and you can choose one yourself or you can call your local Windermere Real Estate agent and they can make a recommendation for you. Once you have the name of some appraisers you can verify their status on the Federal Appraisal Subcommittee website.
Tips for hassle-free appraisals:
To ensure the appraisal process is smooth and efficient, provide your appraiser with the information and documents he or she needs to get the job done. The documents you will need include:
A brief explanation of why you're getting an appraisal
The date you'd like your appraisal to be completed
A copy of your deed, survey, purchase agreement, or other papers that pertain to the property
A sketch of the property with the property's dimensions. These are usually available online from the county assessors.
If you have a mortgage, provide the information about your lender, the year you got your mortgage, the amount, the type of mortgage (FHA, VA, etc.), your interest rate, and any additional financing you have.
A copy of your current real estate tax bill, statement of special assessments, balance owing and on what (for example, sewer, water)
Tell your appraiser if your property is listed for sale and if so, your asking price and listing agency.
If it's a multiple offer situation, provide the appraiser with the other offers to prove the demand for the home.
Any personal property that is included in the sale, like appliances and other fixtures.
If you're selling an income-producing property, a breakdown of income and expenses for the last year or two and a copy of leases.
A copy of the original house plans and specifications.
A list of recent improvements and their costs.
Any other information you feel may be relevant.
By doing your homework, compiling the information your appraiser needs, and providing it at the beginning of the process, you can minimize unnecessary delays.
Posted on October 28, 2019 at 8:00 am
Jon Holsten
|
Category:

Buying, Northern Colorado Real Estate, Windermere Real Estate
|
Tagged

Appraisals, appraiser, comparable values, Condition, condition of the home, estimate, exterior condition, Features, hassle free, Home Appraisals, Home Value, interior condition, land, land value, layout, Market Value, permanent fixtures, qualified appraiser, quality, quality of construction, re negotiate, square footage, structure, Updates, Value

What is the most active price range in Northern Colorado?  Take a guess…
$300,000 to $400,000
$400,000 to $500,000
$500,000 to $750,000
$750,000 and above
By far, the most active price range is $300,000 to $400,000 with 60% more closed transactions than the $400,000 to $500,000 range and 400% more than homes priced $750,000 and above.
However, this lower price range does not have the most inventory.  The price range with the greatest selection of homes is $500,000 to $750,000.
Posted on October 25, 2019 at 3:29 pm
Jon Holsten
|
Category:

Buying, Housing Trends, Northern Colorado Real Estate, Selling, Windermere Real Estate
|
Tagged

Active, Blog, Buying, Fun Facts, Homes, Inventory, northern Colorado, Price Range, Selling, Windermere Real Estate

Seventy-five major metro markets have seen home prices bounce back to above their pre-recession peaks.
Metro Denver has seen the biggest bounce with home values 91% above its previous high in 2007 , according to the Home Price Recovery Index from HSH.com.
"Aside from routinely strong home price appreciation, it's important to know that the Denver metro's housing 'bust' in 2008 was relatively short and shallow," said Keith Gumbinger, the report's author.
The peak-to-trough for home values was only three years long and the total decline in value was just under 8 percent in Metro Denver, he said.
By contrast, a half-dozen large metros have seen home prices more than double from their lows and still not reach the old highs. On that list are Las Vegas, Sacramento, California, and Cape Coral, Florida.
Posted on October 18, 2019 at 8:00 am
Jon Holsten
|
Category:

Buying, Housing Trends, Northern Colorado Real Estate, Selling, Windermere Real Estate
|
Tagged

2007, 2008, Big Bounce, Blog, Bounce, California, Florida, Home Value, Homes Prices, Las Vegas, Metro Denver, Percentage, Post-Recession, Pre-Recession, Price Appreciation, Real Estate, Recession

Some fascinating research from the Denver Metro Association of Realtors…
37% of properties that sold last month along the Front Range had a price reduction at some point during the listing period.
Property owners who have to reduce their price take an average of 58 days to receive an offer.
Those who don't have to reduce their price only take 13 days.
This stat obviously speaks to the importance of pricing your property right on day one.
Posted on October 11, 2019 at 8:00 am
Jon Holsten
|
Category:

Buying, Fort Collins Real Estate, Homes for Sale, Housing Trends, Loveland Real Estate, Northern Colorado Real Estate, Selling, Timnath Real Estate, Wellington Real Estate, Windermere Real Estate, Windsor Real Estate
|
Tagged

Blog, Buying, Front Range, Fun Facts, Price Reduction, Pricing Your Home, Research, Selling, The Market

Purchasing a home can be a complex endeavor for even the most well-prepared home buyer.  You've diligently saved for your down payment, followed the market, researched agents and now you are ready to make an offer on your dream home.  Don't let these 5 "Deal Breakers" come between you and your new home.
Big Purchases on Credit. It is tempting to buy the furniture for your new home or a new car for the garage before the sale closes. Take care if you are making these purchases on credit. Large purchases on credit can have a major impact on your credit profile which effects your mortgage application. It's a better plan to wait until after closing or pay cash for these transactions or you may be putting that furniture in a different living room than you originally picked them out for.
Overpaying. Before your bank will approve your mortgage they will appraise the home you are purchasing.  If they feel you are overpaying they are likely to decline your mortgage application. If you find yourself in this situation consult with your agent on renegotiating your offer to be more in line with the bank's appraised value.
Purchasing too close to Foreclosure. If you are making an offer on a house which is facing foreclosure be sure to have a closing date set before the foreclosure date. Have your agent work with the lender to structure closing before the house goes back to the bank and into foreclosure.
IRS liens. You've heard the old saying "Death and Taxes".  Back taxes and liens can derail your attempts to get financing for a mortgage so be sure to have your books in order before filing your loan application.
Comprehensive Loss Underwriting Exchange (CLUE). CLUE is a database of insurance claims for both people and property.  Your home insurance rates are determined by the information about you and the property you plan to purchase which is contained in this report. Past claims for water damage, falling trees and even dog bites from present and past owners can multiply your insurance rates. Consult your agent about the CLUE report for your future home as soon as possible once your home purchase offer is accepted.
When purchasing a home there will be challenges which you can plan for and the unexpected hurdles.  By educating yourself as a consumer and choosing a well trained real estate agent you can avoid many of the pitfalls of 21st century home ownership.
What about you? Tell us if you have had any "deal breaker" experiences.
Posted on October 10, 2019 at 2:59 pm
Jon Holsten
|
Category:

Buying, Northern Colorado Real Estate, Windermere Real Estate
|
Tagged

Agent, Big Purchase, Blog, Credit Cards, Deal Breaker, Down Payment, First Time Buyer, Home Buyers, Home Buying, Lending, Mistakes, Mortgage, Overpaying, Real Estate, The Market
There's nothing more exciting, rewarding, and fulfilling than buying a home. However, it's a complex transaction; there are a number of steps along the path that can confuse, betwixt, and befuddle even the most seasoned buyers and sellers.
How can you avoid those potential pitfalls and common mistakes? Look to your real estate professional for advice and keep these guidelines in mind:
BUYERS:
#1 Review your credit reports ahead of time
Review your credit report a few months before you begin your house hunt, and you'll have time to ensure the facts are correct and be able to dispute mistakes before a mortgage lender checks your credit. Get a copy of your credit report from Experian, Equifax, and TransUnion. Why all three? Because, if the scores differ, the bank will typically use the lowest one. Alert the credit bureaus if you see any mistakes, fix any problems you discover, and don't apply for any new credit until after your home loan closes.
#2 Get pre-approved
Before getting serious about your hunt for a new house, you'll want to choose a lender and get pre-approved for a mortgage (not just pre-qualified—which is a cursory review of your finances—but pre-approved for a loan of a specific amount). Pre-approval lets sellers know you're serious. Most importantly, pre-approval will help you determine exactly how much you can comfortably afford to spend.
#3 Know what you want
You and your real estate agent should both be clear about the house you want to buy. Put it in writing. First, make a list of all the features and amenities you really want. Then, number each item and prioritize them. Now, divide the list into must-haves and really-wants.
#4 Account for hidden costs
In addition to the purchase price of the home, there are additional costs you need to take into consideration, such as closing costs, appraisal fees, and escrow fees. Once you find a prospective home, you'll want to:
Get estimates for any repairs or remodeling it may need.
Estimate how much it will cost to maintain (gas, electric, utilities, etc.).
Determine how much you'll pay in taxes monthly and/or annually.
Learn whether there are any homeowner's or development dues associated with the property.
#5 Get an inspection
Buying a home is emotionally charged—which can make it difficult for buyers to see the house for what it truly is. That's why you need impartial third parties who can help you logically analyze the condition of the property. Your agent is there to advise you, but you also need a home inspector to assess any hidden flaws, structural damage or faulty systems.
#6 Evaluate the neighborhood and location
When house hunting, it's easy to become overly focused on the number of bedrooms and bathrooms, the condition of the home and its amenities while overlooking the subtleties of the surrounding neighborhood. Take time to check crime reports, school options, churches and shopping. If schools are a key factor, do more than simply research the statistics; speak with the principal(s) and chat with the parents waiting outside.
SELLERS:
#1 Avoid becoming emotional or sentimental about the sale
Once you decide to sell your house, it's time to strip out the emotion and look at it as a commodity in a business transaction. If you start reminiscing about all the good times you had and the hard work you invested, it will only make it that much harder to successfully price, prepare, and market the home.
#2 Fix problems (or price accordingly)
Homes with deferred maintenance and repair issues can take far longer to sell and can be subject to last-minute sale-cancellations. These homes also often sell for less than their legitimate market value. If you simply can't afford to address critical issues, be prepared to work with your agent to price and market your home accordingly.
#3 Don't overprice your home (and/or refuse to negotiate)
Getting top dollar is the dream of every seller. But it's essential that you let the market dictate that price, not your emotions or financial situation. Allow your agent to research and prepare a market analysis that factors in the value of similar homes in the area, and trust those results.
#4 Use quality photos
The vast majority of prospective buyers today search for homes online first. In order to make a good first impression, you need a wealth of high-quality photos of your home and surrounding grounds. You may also need to consider professional staging in order to position your home in the best possible light for prospective buyers.
The process of buying or selling a home can have plenty of twists and turns, but with some smart decision making, you can avoid the most common mistakes and pitfalls.
Click here if you would like to connect with an experienced real estate agent.
Posted on September 19, 2019 at 12:24 pm
Fort Collins 
|
Posted in
Buyers & Sellers
|
Tagged

 Advice, Buyers, credit, credit report, dont overprice, fix problems, For Buyers, For Sellers, Neighborhood, pre approval, Sellers
Posted on October 5, 2019 at 8:00 am
Jon Holsten
|
Category:

Buying, Living, Northern Colorado Real Estate, Selling, Windermere Real Estate
|
Tagged

Advice, Blog, Buying, Credit Report, Hidden Costs, Home Inspection, Inspection, Maintaince, Neighborhood, Overpricing, Photos, Pre Approval, Pre Qualification, Prepared, Real Estate, Selling

We have our pulse on the high-end luxury market.
The activity in price ranges over $1,000,000 is an effective indicator of the health of the overall market.
If buyers for luxury properties are active, it tells us that "smart money" is confident about real estate in Northern Colorado.
So far this year, 107 luxury properties have sold in Larimer and Weld Counties. Last year at this time 93 had sold and in 2017 it was only 56.
It seems "smart money" is confident.
If you want to see even more insights about the Colorado market so that you can make really good decisions about your real estate, you are welcome to watch this complimentary webinar, just click HERE.
Posted on October 3, 2019 at 8:00 am
Jon Holsten
|
Category:

Buying, Fort Collins Real Estate, Housing Trends, Loveland Real Estate, Northern Colorado Real Estate, Selling, Timnath Real Estate, Windermere Real Estate
|
Tagged

Blog, Fun Facts, Investing, Larimer County, Luxury Real Estate, Market News, Million Dollar Homes, Weld County Luxury Real Estate

Moving is stressful, whether it's across town or cross-country.  Once you've closed on your house, the reality of packing, moving, and setting up a new home can become overwhelming. While no list can make a move "stress-free", planning ahead and staying organized can help make your move a little smoother.  Here is our list of tips:
Getting started:
Once you know your prospective move date set up a quick timeline to make sure you can get all the important tasks done and ready in time for your move.
Consider how much stuff you have by doing a home inventory. This can help you decide whether you need to hire movers to help you or if you will be managing your move on your own. Many moving companies supply inventory lists to help you assess the size of truck you will need. You can use your list as double duty for insurance purposes later.
As soon as you decide how you will be moving, make your reservations. In general, moving companies and truck rental services are over-booked at the beginning and very end of the month. If you are planning on hiring a moving company, contact a few in your area for a price quote. To find companies ask your real estate agent, family, or friends, and consult online reviews. It is also a good idea to request a quote and compare companies.
Preparing for your move:
Moving is a great opportunity to get rid of clutter, junk, or outdated items. Set aside some time to sort through your closets, storage spaces, files, drawers, and more.  Go through cluttered areas and organize items by "keepers", "give-aways" and "garbage". You will have less to pack and an opportunity to update after you move. Contact a local nonprofit organization for your donations; some will arrange to pick up larger donations like furniture. If you have items of value, eBay or Craigslist are good options.
Changing your address is one of the more tedious tasks in the moving process. You will need to change your address with the United States Post Office. You can find the online form here.
You will also need to change your address with each account you have. Here is a list to get you started:

Employers
Bank(s)
Utilities (Electric, Water/Sewage, Oil/Gas)
Cable/ Telephone
Cell phone service
Credit Cards
Magazine subscriptions
Insurance companies (auto, home/renters, health, dental, vision, etc.)
Pharmacy
Other personal services
Let the packing begin:
Before you start packing, it may help to visualize where everything you have will go. Perhaps furniture will fit better in a different room? Consider the floor plan of your new home and figure out what will go where. This will aid in packing and labeling as you box everything up.
Use a tool like floorplanner.com to plan where furniture and items will go.
When it comes to packing you have some options. You can work with a service that provides reusable boxes for moving or you can reuse or purchase cardboard boxes.  Make sure you have enough boxes, packing tape, dark markers, and packing paper.
Pack rooms according to your floor plan. Label boxes with contents and room. This will make it easier to unpack your home, knowing where everything is going.
Real Simple magazine has some great tips on packing for your move.
If you have to disassemble any of your furniture, make sure you keep all the parts and directions together.
Make sure you set aside your necessities for the day you move. Being tired and unable to take a shower or make your bed can be hard at the end of a long moving day. Here are some ideas of what you may like to pack in your "day-of-move" boxes

Clean linens for the beds, pillows and blankets
Clean towels
Shower curtain, liner and hooks
Toiletries, hand soap, toothbrush, etc.
Disposable utensils, cups, napkins, etc
Rolls of toilet paper
Snacks and water
Change of clothes
Tools for reassembling furniture, installing hardware, and hanging photos
Making your move
Come up with a game plan with your family, so everyone has a role and a part to play.
Once the house is empty, do a once over on your old place to make sure it is clean for the next owners/occupants. Here is a useful checklist for cleaning.
Warming your new home
Once you have settled into your new home, warm it up by inviting friends and family over to celebrate.
Announce your move to far-away friends and family through moving announcements to make sure you stay on the holiday card mailing list.
Posted on September 25, 2019 at 8:00 am
Jon Holsten
|
Category:

Buying, Fort Collins Real Estate, Living, Northern Colorado Real Estate, Windermere Real Estate
|
Tagged

Blog, Buying, Homeowner, Housewarming, Housing Trends, Movers, Moving, Moving Ideas, Moving Tips, Packing, Planning, Utilities