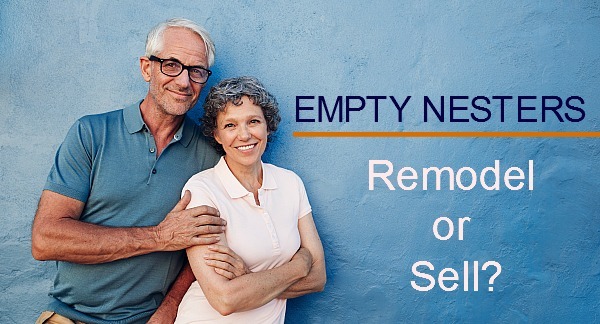 Your kids have moved out and now you're living in a big house with way more space than you need. You have two choices – remodel your existing home or move. Here are some things to consider about each option.
Choice No. 1: Remodel your existing home to better fit your current needs.
Remodeling gives you lots of options, but some choices can reduce the value of your home. You can combine two bedrooms into a master suite or change another bedroom into a spa area. But reducing the number of bedrooms can dramatically decrease the value of your house when you go to sell, making it much less desirable to a typical buyer with a family.
The ROI on remodeling is generally poor. You should remodel because it's something that makes your home more appealing for you, not because you want to increase the value of your home. According to a recent study, on average you'll recoup just 64 percent of a remodeling project's investment when you go to sell.
Remodeling is stressful. Living in a construction zone is no fun, and an extensive remodel may mean that you have to move out of your home for a while. Staying on budget is also challenging. Remodels often end up taking much more time and much more money than homeowners expect.
Choice No. 2: Sell your existing home and buy your empty nest dream home.
You can downsize to a single-level residence and upsize your lifestyle. Many people planning for their later years prefer a home that is all on one level and has less square footage. But downsizing doesn't mean scrimping. You may be able to funnel the proceeds of the sale of your existing home into a great view or high-end amenities.
A "lock-and-leave" home offers more freedom. As your time becomes more flexible, you may want to travel more. Or maybe you'd like to spend winters in a sunnier climate. You may want to trade your existing home for the security and low maintenance of condominium living.
There has never been a better time to sell. Our area is one of the top in the country for sellers to get the greatest return on investment. Real estate is cyclical, so the current boom is bound to moderate at some point. If you're thinking about selling, take advantage of this strong seller's market and do it now.
Bottom Line
If your current home no longer works for you, consider looking at homes that would meet your lifestyle needs before taking on the cost and hassle of remodeling. Get in touch with a Windermere Real Estate broker to discuss the best option for you.

It is still a great time to be a seller, but in much of the Western U.S., the local real estate market has begun to soften. With significant increases in inventory, buyers now have more choices and less sense of urgency. If you are thinking about selling your home, pricing it correctly the first time is critical. Here's why:
If you overprice your home, it won't show up in some search results.

Buyers search for homes using the parameters they desire. Price range is one of the most critical. If you set an unrealistic price of $850,000 for your home, all the buyers searching for homes up to $825,000 will fail to see your property in their search results.

An overpriced home attracts the wrong buyer.

An overpriced home will not compare favorably with the realistically-valued homes in a buyer's price bracket. If your home is missing the amenities, square footage or other features of homes within the price range you've placed it in it won't sell.

Overpriced homes linger on the market and risk becoming "stale".

The interest in a home is always highest when the listing first hits the market. When an overpriced home goes unsold for a long period of time buyers often wonder what is wrong with the property. When a buyer moves on from a listing they rarely come back, even if you drop the price.

You run the risk of getting less for your home than if you priced it correctly the first time.

A Zillow study showed that homes that linger on the market tend to sell for significantly less than their listing price. When a home sits on the market for an extended period of time, buyers feel they have lots of room to negotiate.

The longer your home remains on the market, the more expenses you incur.

Every month your home goes unsold you put out money for mortgage payments, utilities and other home expenses that you will never recover.
Setting a realistic price for your home from the start is critical. If you're thinking of selling, our highly trained experts at Windermere Real Estate can provide you with a comprehensive pricing analysis based on current market conditions.