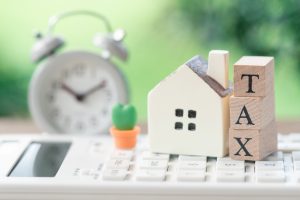 Property owners all over Colorado have a gift waiting for them in their mailbox- their new property tax notifications.
Every two years, each county in Colorado places a new value on property for property tax purposes.
No surprise, values were up along the Front Range.
Here is the percentage of increase for various Colorado counties (keep in mind that this increase is for two years):
Adams 24%
Arapahoe 22%
Larimer 19%
Douglas 14%
Jefferson 14%
Boulder 12%
---
If you have questions about how to respond to your tax notification, we can help!  We would be happy to provide you with an up-to-date market analysis and walk you through the steps on how to protest your new value if you don't agree with it.
You can also watch this webinar we put together which shows you everything you need to know about your new property valuation and how to respond.
You can watch it HERE.
Posted on May 16, 2019 at 8:00 am
Jon Holsten
Category:
Northern Colorado Real Estate
Tagged

Blog, Colorado, Colorado Counties, Front Range, Fun Facts, Property Owner, Property Tax, Property Valuation, Tax Notification, Taxes, Webinar
The following analysis of the Metro Denver & Northern Colorado real estate market (which now includes Clear Creek, Gilpin, and Park Counties) is provided by Windermere Real Estate Chief Economist Matthew Gardner. We hope that this information may assist you with making better-informed real estate decisions. For further information about the housing market in your area, please don't hesitate to contact your Windermere agent.
ECONOMIC OVERVIEW
The Colorado economy continues to grow, adding 69,100 new non-agricultural jobs over the past 12 months, which represents a solid growth rate of 2.6%. That said, we are continuing to see a modest slowdown in employment gains, but that is to be expected at this stage of the business cycle. My latest forecast suggests that Colorado will add a total of 65,000 new jobs in 2019, representing a growth rate of 2.3%.
In November, the state unemployment rate was 3.3%, up from 3% a year ago. The increase is essentially due to an increase in the labor force, which rose by 77,279 people. On an un-seasonally adjusted basis, unemployment rates in all the markets contained in this report dropped between November 2017 and November 2018. The highest rate was in Grand Junction, but that was still a very respectable 4%. Fort Collins and Boulder had the lowest unemployment rate of 2.9%. All the regions contained in this report are essentially at full employment.
HOME SALES ACTIVITY
In the fourth quarter of 2018, 12,911 homes sold — a drop of 13.8% compared to the last quarter of 2017 and down 22% from the third quarter.​
The only market that saw growth in sales was Clear Creek, which rose by 3.8%. This is a small market, however, and is prone to rapid swings in price as well as sales. There was a significant drop in sales in the Denver market. I will be watching closely to see if this is an anomaly or a longer-term trend. At this time, I believe the former to be true.​
Interestingly, this decline in sales in Denver came as inventory levels rose by 37%. For now, I attribute this to seasonality and expect to see sales growth return in the spring.
Inventory growth continues to give buyers more choice, allowing them to be far more selective — and patient — before making an offer on a home. That said, well-positioned and well-priced homes are selling relatively quickly.
HOME PRICES
Despite the rapid rise in listings and slowing home sales, prices continue to trend higher, though the rate of growth is slowing. The average home price in the region rose 6% year-over-year to $454,903. Home prices were 2% higher than in the third quarter.
In all, the data was not very surprising. As with many markets across the country, affordability is starting to become an issue. However, the recent drop in interest rates likely stimulated buyers at the end of 2018 and I expect to see good price growth in the first quarter of 2019.
Appreciation was strongest in Park County, where prices rose 28.2%. We can attribute this rapid increase to it being a small market. Only Gilpin County saw a drop in average home price. Though this, too, is due to it being a very small market, making it more prone to significant swings.
As mentioned, affordability is becoming an issue in many Colorado markets and I anticipate that we will see some cooling in home price appreciation as we move through late 2019.
DAYS ON MARKET
The average number of days it took to sell a home in Colorado rose by one day compared to the final quarter of 2017.
The amount of time it took to sell a home dropped in four counties: Boulder, Larimer, Gilpin, and Park. The rest of the counties in this report saw days on market rise relatively modestly with the exception of the small Clear Creek market, which rose by 20 days.
In the fourth quarter of 2018, it took an average of 38 days to sell a home in the region, but it took less than a month to sell a home in five of the eleven counties contained in this report.
Housing demand is still there, but buyers appear to have taken a little breather. I anticipate, however, that the spring will bring more activity and rising sales.
CONCLUSIONS
The speedometer reflects the state of the region's real estate market using housing inventory, price gains, home sales, interest rates, and larger economic factors.
For the fourth quarter of 2018, I continue the trend I started last summer and have moved the needle a little more in favor of buyers. I will be closely watching listing activity in the spring to see if we get any major bumps above the traditional increase because that may further slow home price growth — something that would-be buyers appear to be waiting for.
As Chief Economist for Windermere Real Estate, Matthew Gardner is responsible for analyzing and interpreting economic data and its impact on the real estate market on both a local and national level. Matthew has over 30 years of professional experience both in the U.S. and U.K.
In addition to his day-to-day responsibilities, Matthew sits on the Washington State Governor's Council of Economic Advisors; chairs the Board of Trustees at the Washington Center for Real Estate Research at the University of Washington; and is an Advisory Board Member at the Runstad Center for Real Estate Studies at the University of Washington where he also lectures in real estate economics.
Posted on May 8, 2019 at 8:00 am
Jon Holsten
Category:

Fort Collins Real Estate, Housing Trends, Loveland Real Estate, Northern Colorado Real Estate, Timnath Real Estate, Wellington Real Estate, Windermere Real Estate, Windsor Real Estate
Tagged

Blog, Colorado, Colorado Real Estate, Economic Overview, Real Estate, Real Estate Trends

Much of the Western United States is grappling with the same issue this summer – the specter of smoke and fire from some of the largest forest fires in recent memory. For individuals, even the decreased air quality can be a threat, while the destruction that the fires themselves can wreak is devastating. Homeowners living near impacted areas are often left with an impossible choice – pack up what they can and evacuate or remain in a dangerous location and hope for the best. Thankfully, homes needn't be defenseless against the heat. To help fortify your home against damage stemming from fires, we brought together advice from a few experts.
Opt for Flame-Resistant Walls and Roofing
It may be obvious but building a home out of non-flammable materials like brick, stucco, metal, or concrete is a key way to prevent a fire from taking hold initially.
The troublesome spaces tend to be beyond the core of the home. Decks, balconies, and overhangs all commonly include wooden components that can be easy points of egress for embers.
Replacing or coating these accent points with fireproof materials is a short-term expense that, much like insurance, prevents far greater financial strains in the future.
No Space is Too Small to Protect
Think that little vent in the attic is too small to be an issue? Think again!
Even vents built into kitchens and dryers should be considered as potential problem areas. Protecting these can allow continued circulation of air without incurring an excess fire risk.
Wire screens with 1/8th" to 1/4th" between screen bars are typically enough to keep treacherous embers from sneaking into your home.
Fortify Your Windows
The most vulnerable spots in most homes are glassy exterior windows. While their views are understandably gorgeous, they can be easy pressure points for fires to overpower.
If you have the means to replace single-plane glass with wire glass or fireproof safety glass, that's a worthwhile expense to ensure neither flames themselves nor radiant heat can shatter into your home.
Beyond simply upgrading the glass, installing retractable fireproof exterior panels is the safest route to fire protection. And don't forget your skylights!
Posted on April 19, 2019 at 8:00 am
Jon Holsten
Category:

Foothills View, Landscape, Windermere Real Estate
Tagged

Blog, Colorado, Colorado Living, Fire, Fire Prevention, Fire Safety, Home, Homeowner, Precaution, Real Estate, Safety, Wildfire